4 Stylish Set-Ups For Your Family's Celebrations With Happy Ongpauco-Tiu
At Metro.Style's recently concluded MomCon, restaurateur, event specialist and businesswoman Happy Ongpauco-Tiu shared her years' worth of expertise on stylish table settings and celebrations.  "Celebrate life.  Let's find reasons to be grateful that we are home, protected.  We can celebrate in minimal ways but still make it look special," she says, underscoring the silver linings that we best set our sights on during this trying pandemic period.
Pandemic Entertaining
To do so, Happy shared tips on styling celebrations at home.  On how to choose decor, she gave a couple of no-fail tips:
1. Start with a theme and work around that.
2. Be creative in your own way.
As each of us waits for our turn for the vaccine, many are still compelled to play it safe, pursuing celebrations online.  There is no reason that these should be less festive.  Happy advises that families who are gathering over Zoom or other online means can do the following:
1. Come up with small boxes of food and give aways to send out to friends and family.
2. Set up a small table by your laptop in accordance with the theme.
3. Have a small area beside you and dress it up a little just so they see that you have put in a little effort in it.
4. Have fun.  This is a stress-reliever for moms.
4 Stylish Set-ups
To illustrate her tips, Happy showed the moms in the audience four table settings that she styled on her own:
The Picnic
Set Outdoors, she used the banig as an anchor piece for the celebration.  A few woven floor mats were layered to create texture.  Happy points out that the banig introduces depth and dictates the style.  Herbs and leaves completed the look. "You can use the herbs for cooking after.  You can use melamine plates or even bilbos," she says.
Other elements of the spread included water sweetened with overripe fruits; different kinds of baskets and breads; pillows and fruits; lots of leaves as fillers for the table setting. Melamine plates with tropical leaves were also used.  "Make sure your plates all match for a cohesive setting," she says.
For the outdoor picnic spread, Happy encourages moms to go local and adventurous, even going as far serving Filipino street food.  Fish balls paired with scramble, for example.  Barbecue is another dish that is popular for picnics.  For dessert, how about a halo-halo bar?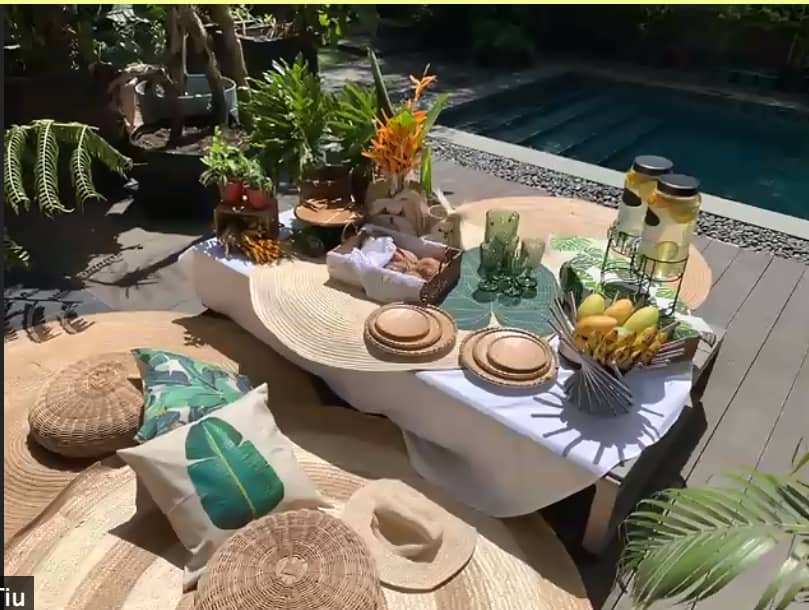 Happy Ongpauco-Tiu's picnic set up made for Metro.Style's MomCon 2021 |

 

Screen Shot from MomCon 2021
Afternoon Tea 
Happy's charming afternoon tea set up offered plenty technical tricks on layering a tablescape.  For starters, she achieved different heights with the use of cake risers. On a plate liner, a dinner plate, salad plate and small teacups were set, achieving a succession of light colors for the ladies who lunch.  Baby's breath and orchids were used as centerpieces.  Happy is partial to orchids as they last a whole month at home.  After the occasion, you can continue using them as centerpieces and decor, while baby's breath is an inexpensive flower that will add delicate freshness to your spread. 
She offers an easy dessert idea: The Deconstructed Cheesecake.  Use graham crackers, cream cheese, canned blueberry and strawberry.  Simply spoon the cream cheese and blueberry or strawberry pie fillings onto the piece of graham cracker, and it's like eating cheesecake without baking.  On a budget?  Try making a pandesal bar with sardines, kesong puti, local jams and spreads as fixings.  A leveled up version of this is the panini bar.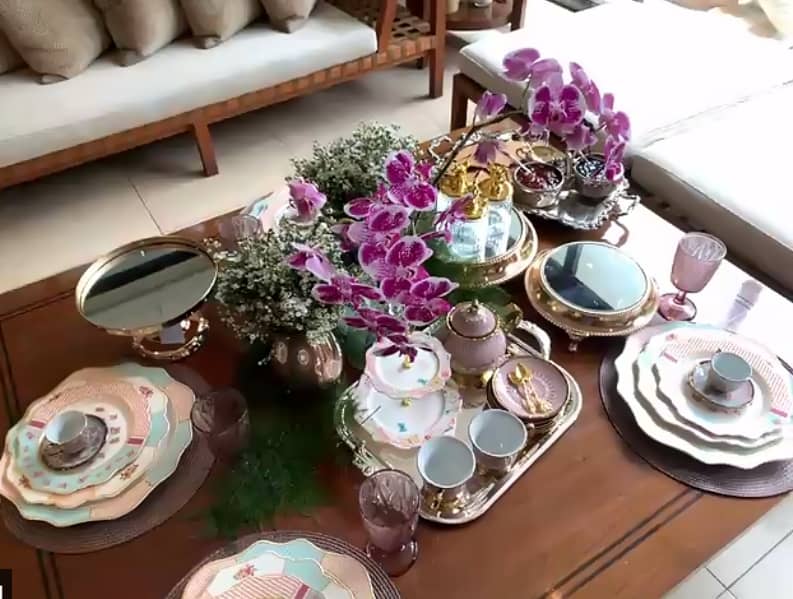 Set on a coffee table, afternoon tea is pretty in pastels. |

 

Screen Shot from MomCon 2021
Date Night
Different candle holders with different heights were used along with various glasses that give the set-up its shimmer.  Lanterns which glow at night give the set-up a romantic look.
For appetizer, baked brie sprinkled with honey and topped with dried fruits was used as a dip.
Flowers from her backyard were set on votives with water.  The water refracted the flowers' shapes and size, making them more dramatic.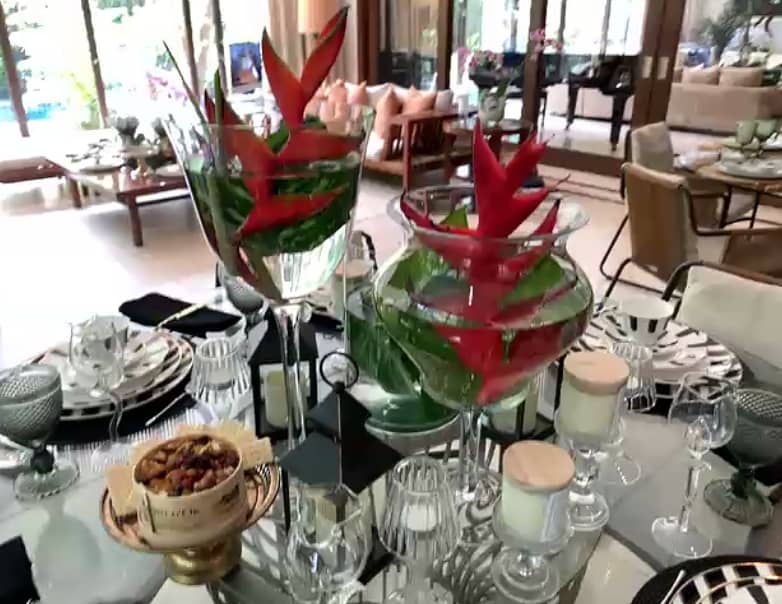 A dramatic black and white table setting for date night is accentuated by birds of paradise flowers picked from the hostess' own garden |

 

Screen Shot from MomCon 2021
The Tropical Table
This abundant spread was decorated with greens from garden and green berries from Dangwa.  No water was used for this decoration, as the plants were laid directly on the table, making a flexible arrangement. 
A tip for going big on style: Should your table be on the smaller side, you need not choose between food and the centerpiece.  You may opt to set all the food on a buffet table, encouraging guests to serve themselves or you may employ the Russian style sit-down service where each part of the meal is served by the staff to the diners.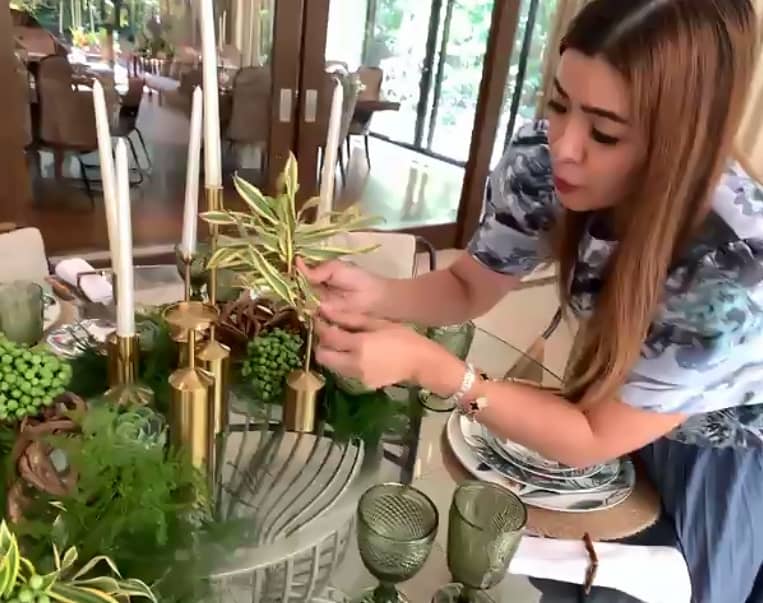 Happy makes this table setting lush with greens. |

 

Screen Shot from MomCon 2021
To wrap up, Happy advises on how to start a plate collection, which she knows a thing or two about:
1. Start with a theme (Some of the popular ones are black and white, blue and white and tropical.)
2. You don't need to have lots of plates.  For starters, you can have a few sets and use repeatedly for occasions.
3. On using plastic things- Use melamine, eco-friendly materials.  There are plenty of options in the market.
Inspired to set up a celebration on your own?  See more of Happy's work here:
All gallery images by @@privatediningbyhappyconcept